SERGEI RACHMANINOFF 150th BIRTH ANNIVERSARY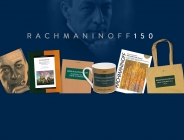 Widely considered one of the finest pianists of his days and, as a composer, one of the last great representatives of Romanticism in Russian classical music, Sergei Rachmaninoff (1873-1943) is one off the most performed composers of the 20th century.
A virtuoso pianist, his four concertos for the instrument garnered him fame early in his career, and a fifth has been posthumously arranged from his Second Symphony. Rare repertoire for exploration includes his operas, songs and tone poems The Rock and The Isle of the Dead, while his later masterpieces, like Rhapsody on a Theme of Paganini, Symphony No.3, and Symphonic Dances, are among the most beloved today for their expressivity and rich harmonies. Read more....