Theatre
The Man Without a Past
Α theme that would certainly attract the interest of Greek theatergoers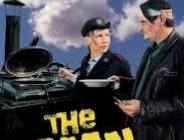 "The Man Without a Past" - the second part of the Finnish screenwriter and film Director Aki Kaurismäki's trilogy - was distinguished among his other films and gained the applause of both critics and the public. It was nominated for the Academy Award for Best Foreign Language Film in 2002 and won the Grand Prix at the 2002 Cannes Film Festival.

A middle aged man arrives in Helsinki by a late night train. He falls asleep in a park and gets mugged and beaten to the point he gets unconscious. In the hospital he realizes he can't remember anything of his past. Having totally lost his memory, he has to start his life from scratch being supported by drifters and bums, doleful losers all, who make the stranger one of their own.

This story about the possibility of wiping the slate clean and replacing the modern globalised way of life with the values of a utopian community, of a trade-free association, is a theme that would certainly attract the interest of Greek theatergoers in this period of the financial and social crisis.

The Artbassador would be happy to license the play "The Man Without a Past" for a stage production in Greece and Cyprus, on behalf of the Agency "Hartmann & Stauffacher Verlag".