THE MIRROR CRACK'D AGATHA CHRISTIE
A new adaptation by Rachel Wagstaff!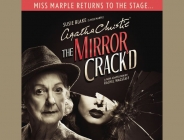 Miss Marple returns to the stage, in a brand new production of Rachel Wagstaff's acclaimed adaptation of Agatha Christie's The Mirror Crack'd, by the Original Theatre Company!
The Mirror Crack'd From Side to Side was published in the UK in 1962 and adapted as a feature film, The Mirror Crack'd, in 1980, starring Angela Lansbury as Miss Marple, Elizabeth Taylor, Kim Novak, Rock Hudson and Tony Curtis.
This year, focusing on the Miss Marple character,a new collection of original short stories written by renowned contemporary crime writers is scheduled for UK publication on Christie's birthday on 15th September and a Greek edition also published by Psichogios.