Music
The Apollonian and Dionysian in "Die Bassariden" of H.W. Henze
After Euripides's 'The Bacchae'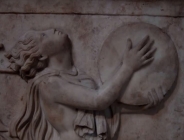 Die Bassariden ("The Bassarids") is an opera in one act and an intermezzo, with music Hans Werner Henze to an English libretto by W. H. Auden and Chester Kallman, after Euripides's The Bacchae. The conflict in the opera is between human rationality and emotional control, represented by the King of Thebes, Pentheus, and unbridled human passion and sensuality, represented by the god Dionysus.
A noteworthy feature of the opera is its construction like a classical symphony in four movements: sonata form, scherzo and trio, adagio and fugue and passacaglia. Henze has noted that he quotes from Johann Sebastian Bach's St. Matthew Passion and the English Suite in D minor.
"Die Bassariden" was first performed in German at Salzburg Festival in 1966 conducted by Christoph von Dohnányi. The first performance using the original English text, as well as the U.S. premiere, was at Santa Fe Opera in 1968, with the composer himself conducting. The opera was also given in London, Munich, New York, Milan and in other cities.
Henze's prolific oeuvre of works is extremely varied in style, having been influenced by serialism, atonality, Stravinsky, Italian and Arabic music and jazz, as well as traditional schools of German composition. In particular, his stage works reflect "his consistent cultivation of music for the theatre throughout his life".
The Artbassador represents the play for a stage production in Greece and Cyprus, on behalf of Schott Music.