Schott Music

Founded by Bernhard Schott in Mainz in 1770, Schott Music today ranks among the leading music publishers in the world with branches in 10 countries. It has an unparalleled range of products and services covering all aspects of music. It embraces traditional publishing houses such as Panton, Ars Viva, Eulenburg, Atlantis Musikbuch, Hohner-Verlag, Fürstner, Cranz and Bund-Verlag. It also owns two internationally known record labels; Wergo and Intuition, distributing contemporary, jazz and world music on CD and DVD. The group also publishes seven specialist magazines, including Neue Zeitschrift für Musik founded by Robert Schumann. WEGA-Verlag GmbH, Schott's independent printer, receives and executes production orders from customers from all over the world. Schott's own distribution and logistics centre, music distribution services GmbH (mds), centred in a modern high-bay warehouse currently housing more than 12 million items, distributes not only the products from the entire Schott programme but also the publications of more than 120 third-party publishers. About 130,000 titles (scores, books, sound and electronic data carriers) are shipped from Mainz worldwide every year.
Since 2004, Schott and the music publishers Boosey & Hawkes have been collaborating as strategic partners, aiming to strengthen further the international activities of both publishing houses.
The Schott Music programme, comprising performance and teaching literature urtext editions, concert and opera editions, study scores, important critical editions, books on music, specialist magazines, sound carriers and multimedia products, influences all areas of musical activities. A central core has been the publication of works by internationally renowned 20th and 21st century composers. Carl Orff, Igor Stravinsky, Michael Tippett, Paul Hindemith, Krzysztof Penderecki, Hans Werner Henze and György Ligeti entrusted Schott with the publication of their work. Schott Music takes it as part of its cultural mandate to support and promote young composers (such as, most recently, Jörg Widmann, Christian Jost, Chaya Czernowin, Atsuhiko Gondai, Fazil Say, Andrew Norman, Richard Ayres among many others) to make current musical developments and trends accessible to audiences everywhere.
Schott Music is a modern family-owned company. As shareholder and CEO Dr Peter Hanser-Strecker is shaping the publishing profile of Schott Music; he runs the company together with Managing Director Dirk H. Beenken. They are supported by an international team of around 250 skilled people working in the areas of editing, production, distribution and promotion, giving new impetus to the music repertoire and making it possible to satisfy customer demands swiftly and effectively worldwide.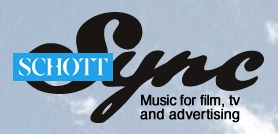 SCHOTT Sync is a division of SCHOTT MUSIC, an internationally leading music publisher with over 50,000 copyrights and 1,000 composers, worldwide subsidiaries and 240 years of publishing experience. Their catalogue covers a broad repertoire of masterworks of classical and serious contemporary music such as CARMINA BURANA as well as pop, jazz and world music. It offers music from renowned composers such as Carl Orff, Paul Hindemith, Igor Stravinsky, György Ligeti and Mikis Theodorakis.
The sync-team will find music for all audiences from all genres and for every budget for use in films and commercials, at no charge. After selecting the perfect sound, SCOTT Sync we will clear all rights for the client. In addition to the publishing rights, it will also take care of the master rights of the recording in their One-Stop-Shop. Thanks to their own record companies and cooperation with numerous labels, recording studios and film music composers, they have the right music for every situation. Or they can even have a custom-tailored score composed for the client.