Theatre
2023 ELEUSIS EUROPEAN CAPITAL OF CULTURE
23 July 2023
"MYSTERY 35" AESCHYLUS PROJECT-CONCERT IANNIS XENAKIS: ORESTEIA -ATHENS STATE ORCHESTRA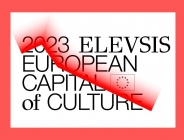 Becoming the fourth European Capital of Culture hosted in Greece, after Athens (1985), Thessaloniki (1997) and Patras (2006), Elefsina joins the ECoC family, presenting a rich and innovative artistic, research and educational program titled "MYSTERIES OF TRANSITION" with 130 artworks, 465 events in 30 venues, 192 Greek and 137 international Artists from 30 countries!
Within 2023 Eleusis Cultural programme, the Athens State Orchestra will present a unique concert, performing the "Oresteia" by the Greek musician, architect, mathematician, intellectual and philosopher Iannis Xenakis (1922-2001), a thrilling, evocative and demanding work, considered one of the most important of the musical avant-garde of the 20th century!
THE ARTBASSADOR provided the Orchestra with the music material of Iannis Xenakis' work, on behalf of the Publishing House BOOSEY & HAWKES UK.