Dance
28th KALAMATA INTERNATIONAL DANCE FESTIVAL
15 July 2022- 24 July 2022
Ode to Beauty!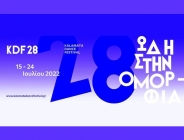 The International Dance Festival of Kalamata was founded in 1995, with the purpose of promoting the art of dance via research, education, artistic activities and production. After its continuous presence in the Greek dance scene, the Kalamata Festival has earned wide recognition among the festivals of the Mediterranean South, becoming one of most important International Dance Festivals.
During the 28th presence of the Kalamata International Dance Festival, leading Greek and international artists will present their work to art lovers from all over the world, from 15 to 24 July, sharing with the audience a plethora of exciting and diverse performances, including:
TRIPTYCH: THE MISSING DOOR, THE LOST ROOM, THE HIDDEN FLOOR / PEEPING TOM Groupe: Gabriela Carrizo & Frank Chartie, at Kalamata Dance Hall / Main Stage (15 & 16 July)
HIDDEN / Lali Ayguade Company, at Kalamata Dance Hall / Black Box ( 23/07/2022)
The Artbassador was very happy to collaborate with the Kalamata International Dance Festival, regarding the rights of the creators represented by the French Collecting Society SACD.