Theatre
HUIT FEMMES by Robert Thomas
At Aliki Theatre, since 1 December!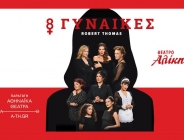 At an isolated countryside mansion, a family is gathered for the Holiday season when a tragedy occurs: their beloved patriarch is found murdered. Who could be the killer? Eight women in the house, all closely related to the victim are all suspects. Each has a motive, each has a secret... but only one will be proven guilty. Which one?
Widely regarded as a classic in the comedy thriller genre, Robert Thomas' psychological thriller, shrouded in mystery, an intriguing plot and a killer twist at the end, debuted in the late 50's in Paris and became one of the most popular French plays, which continues to fascinate mystery lovers worldwide.
Translation : Adonis Galeos
Direction : Petros Ζoulias
Production : ATHINAIKA THEATRA
Starring : Ioanna Asimakopoulou, Katia Goulioni, Natalia Dragoumi, Georgia Kallergi, Nikoleta Kotsailidou, Anna Konstantinou, Effrosini Sakellariou, Marina Psalti
THE ARTBASSADOR has licensed the Greek production, on behalf of of the French Collecting Society SACD, which represents Robert Thomas' rights in this play and on behalf of the translator of the play Adonis Galeos.