Music
A TRIBUTE TO ENNIO MORRICONE
22 December 2021
ΤΗΕ YΟUTH SYMPHONY ORCHESTRA OF THE TESSALONIKI CONCERT HALL, MOYSA, AT THE THESSALONIKI CONCERT HALL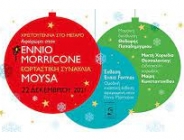 The Thessaloniki Concert Hall in collaboration with the Ιtalian Cultural Institute of Athens and the Cultural Association of Friends of Music Ennio Morricone in Greece, will present on December 22 an exceptional concert- tribute to the great Italian composer, orchestrator, conductor and trumpeter whose unsurpassed compositions marked the international film music scene.
HE IS NOT JUST A GREAT FILM COMPOSER HE IS A GREAT COMPOSER -GIUSEPPE TORNATORE
Under the music direction of Thodoris Papadimitriou the Thessaloniki Concert Hall Youth Symphony Orchestra-MOYSA with the Mixed Choir of Thessaloniki, will present some of the great film compositions of the legendary Ennio Morricone, one of the world's greatest film composers.
THE ARTBASSADOR provided the Orchestra with the music material of the works of Ennio Morricone, on behalf of the Publishing House MEPRO GMBH.