Music
TRIBUTE TO IANNIS XENAKIS
GREEK NATIONAL OPERA ALTERNATIVE STAGE-STAVROS NIARCHOS FOUNDATION CULTURAL CENTER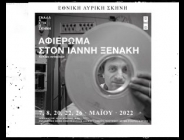 The Greek National Opera Alternative Stage participates in the celebration of the centenary of the birth of the great 20th-century music innovator Iannis Xenakis with an extensive programme of concerts and performances, which covers a wide spectrum of his works and will be presented on the GNO Alternative Stage at the SNFCC on 7, 8, 20, 22, 26 May 2022.
The tribute begins with the new choreographic approach of Lila Zafiropoulou, artistic director of the Athens Conservatoire Professional Dance School, to Xenakis' modernist ballet score Kraanerg (7,8/5) in collaboration with the Corporis Miracula ensemble, the Black Page Orchestra, students of the GNO Professional Dance School and the Athens Conservatoire Professional Dance School.
THE ARTBASSADOR provided the Orchestra with the music material of the work, on behalf of the Publishing House BOOSEY & HAWKES UK.