Theatre
VARIATIONS ENIGMATIQUES by Eric-Emmanuel Schmitt
At Michael Cacoyiannis Foundation, since 4 February!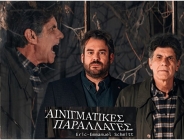 When a charismatic but reclusive Nobel Prize-winning author, decides to give an interview to a small-town journalist, his emotional and literary world will be overturned. What starts as a simple meeting will quickly turn into a very cruel game of truth which leads to a life and death battle of wits…
Premiered at the Théâtre Marigny, Paris in 1996, "Variations Enigmatiques", by the award-winning author Eric-Emmanuel Schmitt, one of the most famous contemporary creators of the French theatrical scene, is a modern drama which strikes a chord with audiences and critics worldwide. A masterpiece work which explores the essence of loneliness and the eternal mysteries of love, in an absolute must see performance!
Translation : Eva Kotanidi
Direction : Sotiris Tsafoulias-Pygmalion Dadakaridis
Production : Performing Arts and Entertainment Ltd
Starring : Giannis Bezos, Pygmalion Dadakaridis
THE ARTBASSADOR has licensed the Greek production, on behalf of the French Agency ''AGENCE DRAMA Suzanne Sarquier'', which represents Eric-Emmanuel Schmitt's rights in this play.