Theatre
AMADEUS by Peter Shaffer
Αt Piraeus Municipal Theatre since 5 February!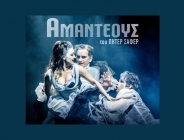 Wolfgang Amadeus Mozart, an impulsive and eccentric young prodigy, arrives in Vienna. Astonished by Mozart's God-given musical genius and seized by obsessive jealousy, Antonio Salieri, the established Royal court composer, begins a war with Mozart, with music and ultimately, with God! A story of power, jealousy and betrayal in an absolutely must see performance!
Peter Shaffer's iconic play "Amadeus" premiered at the Royal National Theatre, London in 1979, thrilling audiences and critics; transferred to West End and later to Broadway, winning the 1981 Tony Award for best play. Later it was adapted, by Shaffer himself, into the emblematic 1984 film of the same name, which won eight Oscars.
Direction : Odysseas Papaspiliopoulos
Translation : Eleni Karakouli
Production : TEXNIXOROS
Starring : Nikos Psarras, Giannis Niaros, Mary Mina, Giannis Kotsifas, Giorgos Triantafillidis, Giorgos Tzavaras, Vaggelis Daousis, Vasilis Darmas
THE ARTBASSADOR has licensed the Greek production, on behalf of Sir Peter Shaffer's Charitable Foundation c/o Macnaughton Lord Representation.