Theatre
OF MICE AND MEN by John Steinbeck
At Cartel Texnoxoros since 8 October!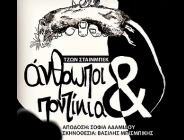 The timeless American classic of the 20th Century by the Pulitzer and 1962 Nobel Prize in Literature winner; John Steinbeck . A compelling story of friendship between two migrant workers, George and mentally challenged Lenny, who strive to find their place in an unforgiving world.
An outstanding work which achieved huge success as a novel, a Broadway play, and three acclaimed films and as Steinbeck described himself, "a kind of playable novel, written in novel form but so scened and set that it can be played as it stands."
Translation: Vasilis Bisbikis
Direction : Vasilis Bisbikis
Production: CARTEL
THE ARTBASSADOR has licensed the Greek production of the play which is based on the homonymous novel by John Steinbeck, on behalf of the Agency McIntosh & Otis Inc, which represents John Steinbeck's rights.