Theatre
LADIES NIGHT by Αnthony McCarten & Stephen Sinclair
At Vembo Theatre, since 11 November!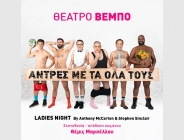 Just how far six unemployed neighbors will go to make some quick money? Having nothing to lose, they decide that regardless how they look and dance they are going to present the best all-male strip show in town...
The smash hit comedy Ladies Night by Stephen Sinclaire and Anthony McCarten has already conquered the whole world, enjoying numerous successful productions, since its premiere at the Mercury Theatre in Auckland, New Zealand, in 1987.
Thanks to an impressive cast of actors and a talented creative team the Greek production of this amazing hit play, promises an unforgettable and incredibly entertaining show full of energy, laughter and emotion!
Not to be missed!
Τranslation: Themis Marsellou
Direction: Themis Marsellou
Production: ΤΑGARIS THEATRE COMPANY
ΤΗΕ ΑRTBASSADOR has licensed the Greek production, on behalf of the Agency Casarotto Ramsay & Associates, which represents McCarten & Stephen Sinclair's rights in this play.