Theatre
A CHRISTMAS CAROL by Charles Dickens
15 November 2019- 12 January 2020
A wonderful Christmas story, based on Jack Thorne's adaptation at the stage of Greek National Theatre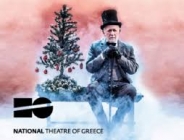 A Christmas Carol, Charles Dickens' most popular novel returns to the National Theatre of Greece in a great performance, based on Jack Thorne's adaptation, inviting us in a world of dreams and imagination, revealing the true meaning of Christmas.
Charles Dickens' classic ghost story was first published in London by Chapman & Hall in 19 December 1843 and the first edition sold out by Christmas Eve. By the end of 1844 thirteen editions had been released. As the ghosts spirit Scrooge from the present to his past and future, Dickens lead us on a magical journey from the miser's dank and creaking house to cozy hearths and from snowy graveyards to joyful festivities. The beloved story offers a celebration of goodness, a plea for justice and the promise of redemption, urging us to honor Christmas in our hearts and try to keep it all the year round.
The NTG's great production of this timeless classic, directed by Giannis Moschos with lyrics by Stavros Stavrou and original music by Thodoris Economou, is being staged at the emblematic ZILLER BUILDING-MAIN STAGE. In the starring role of Ebenezer Scrooge Alexandros Mylonas, accompanied by a selected cast of beloved actors. With soaring melodies, moving lyrics, songs and wonderful period costumes, Charles Dickens' masterpiece is brought to life in a fascinating performance that will unite audience under the festive Christmas spirit.
THE ARTBASSADOR has licensed the Greek production, on behalf of the UK Agent CASAROTTO RAMSAY & ASSOCIATES LTD which represents the writer (theatre adaptation) Jack Thorne.