Theatre
DOGVILLE by Lars von Trier &Christian Lollike
At Neos Akadimos Theatre, since 14 October!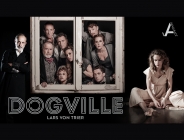 Running away from a gang of ruthless gangsters, the beautiful, young Grace finds refuge in the small, isolated township of Dogville. The small community will protect her, but as the time passes, she will come against their greed and malicious face. Because evil can appear anywhere depending on the circumstances...
Based on Trier's multi awarded movie "Dogville", a masterpiece of invention and originality, the play is a deep and harsh portrait of human nature, in a world of greed, oppression, hypocrisy and absolute evil.
An emotionally engaging and intellectually challenging allegory, in an absolute must see performance!
Translation : A. Galeos
Direction : L. Meleme
Production : HAPPY PRODUCTIONS
THE ARTBASSADOR has licensed the Greek production, on behalf of the Agency NORDISKA ApS, which represents Lars Von Trier and Christian Lollike (stage adaptation).