Theatre
"A Hatful of Rain" by Michael Vincente Gazzo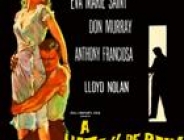 The Greek National Theatre will present Michael Gazzo's famous play "A Hatful of Rain" during next winter's theatrical season 2013-2014.
The play will be presented at our National Theatre's Youth theatrical stage, under the direction of George Kordelas, translated by Kalia Papadaki.
The National Theatre's new Artistic Director Mr. Sotiris Xatzakis noted that "The story of a "A hatful of rain" remains highly relevant to this day and its staging at the theatre's Youth Stage aims to give our youngsters a message against the use of drugs, which currently abound in the streets surrounding our National Theatre".
"A Hatful of Rain" was written in 1955 and was staged the same year in New York, under the direction of Frank Korsaro, starring Ben Gazzara, Shelley Winters and Anthony Franciosa. Following its theatrical success, the play was produced in 1957 as a dramatic film and experienced equally great success.
"A Hatful of Rain" deals with the effects of drugs addiction, a taboo subject at the time and particularly relevant to this today.
The setting is a housing project apartment with Johnny, a veteran of the Korean War, secretly addicted to morphine after his stay in a military hospital. His emotional distance alienates him from the apartment's other residents, Johnny's pregnant wife and his younger brother, while his father's arrival further complicates the situation leading to a dynamic and dramatic climax.
The movie version of "A Hatful of Rain" was adapted from the play by the author himself with the collaboration of Alfred Hayes and Carl Foreman. The film was directed by Fred Zinnemann, starring Eva Marie Saint, Don Murray, Anthony Franciosa, Lloyd Nolan, and Henry Silva. Anthony Franciosa was nominated for an Academy Award for Best Actor in a Leading Role at Venice Festival Film.

Michael V. Gazzo's "A Hatful of Rain" is the second theatrical play that "The Artbassador" licenses to our National Theatre. Licence was granted on behalf of ICM Partners representing the Estate of Michael V. Gazzo.
A few words about Michael Vincente Gazzo.

Michael V. Gazzo was born in Hillside New Jersey, on April 5th 1923. At the end of Second World War, he attended Erwin Piscator's Dramatic Workshop.
His first major success was as a playwright with his above work. The play's success led to an equally popular movie and Gazzo's turn to screenwriting, in movies such as "King Creole", starring Elvis Presley. Eventually he turned back to acting, with great performances. For his interpretation of the role of Frank Pentangeli in the 1974 film "The Godfather: Part II", he earned an Oscar nomination as "Best Supporting Actor". His involvement in the cinema and television continued until the end of his life on February 14th 1995.