Theatre
ATHENS EPIDAURUS FESTIVAL 2023
01 June 2023- 26 August 2023
CΟΝΝECTING THE PAST, PRESENT AND FUTURE!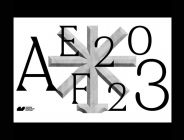 The 2023 Athens Epidaurus Festival celebrates its 68th anniversary presenting an inspiring artistic programme from June 1 to August 26. As always, artistic productions will be staged at the Odeon of Herodes Atticus, Peiraios 260 venue, in Athens, the iconic Ancient Theatre of Epidaurus and the Little Theatre of Ancient Epidaurus.
As Greece's leading cultural institution and one of Europe's oldest performing arts festivals, the Athens Epidaurus Festival hosts an impressive roster of distinguished music, opera, dance and theatre artists from around the world and renowned Greek creators, offering both classical performances, including ancient Greek drama and cutting-edge, avant-garde productions, attracting significant audiences from all over the world.
With a legacy which spans more than 60 years the Athens Epidaurus Festival is undoubtedly the absolute highlight off the Greek summer! Read more...
The Artbassador was very happy to collaborate with the Αthens Epidaurus Festival, regarding the rights of the creators represented by the French Collecting Society SACD.