Theatre
LA VOIX HUMAINE by Jean Cocteau
Αt Mikro Xorn Theatre, since 3 October!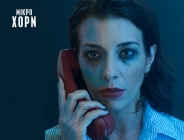 I'm whispering into your ear - and we couldn't be further apart...
An abandoned woman still in love, a phone call, a final desperate conversation with her former lover.
Written in 1928 and first staged at the Comédie-Française in Paris two years later, Jean Cocteau's triumphant one-woman play explores our desperate need for human relationships. A wonderful, heartbreaking and deeply human monologue about love and loneliness, which remains as relevant as ever.
Translation:A. Galeos
Direction :N. Chaniotakis
Production:ATHINAIKA THEATRA
THE ARTBASSADOR has licensed the Greek production, on behalf of the French Collecting Society SACD,which represents Jean Cocteau's rights in this play and on behalf of the translator of the play Adonis Galeos.