Theatre
SACD's application is now available for Android!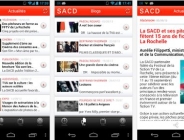 SACD has launched a smartphone / tablet application for Android.

Its users will be able to get informed at a glance of future developments regarding Authors' Rights, the battles to fight for their protection, the opportunities that arise and everything else that constitutes the work environment of authors and users using SACD's repertoire.