Theatre
THE GOAT or WHO IS SYLVIA by Edward Albee
Αt Athinon Theatro, since 6 October!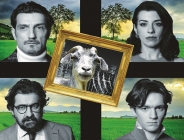 Three-time Pulitzer Prize-winner Edward Albee's most provocative, daring, and controversial play since Who's Afraid of Virginia Woolf, ''The Goat or Who Is Sylvia?'' was written in 2000 and opened on Broadway in 2002.The play won every major award for best new play of the year 2002. The Tony Award for Best Play, Drama Desk Award for Outstanding Play, and was a finalist for the 2003 Pulitzer Prize for Drama.
A darkly comical parable which examines the boundaries of morality and the limits of tolerance ​society can be pushed to, and plumbs the deepest questions of social constraints on the individual expression of love.
''THE GOAT is about a profoundly unsettling subject… the irrational, confounding, and convention-thwarting nature of love. Powerful [and] extraordinary… Mr. Albee still asks questions that no other major American dramatist dares to ask." —The New York Times.
ATHINON THEATRO
Translation: Nikorestis Chaniotakis
Direction : Nikorestis Chaniotakis
Producer : Karolos Pavlakis
Starring : Νikos Kouris, Loukia Michalopoulou, Giannis Drakopoulos, Michail Tampakakis
THE ARTBASSADOR has licensed the Greek production, on behalf of the Agency WILLIAM MORRIS ENDEAVOR ENTERTAINMENT LLC, which represents Edward Albee's rights in this play.