Theatre
LA CHARCA INUTIL by David Desola
A mysterious search for happiness! Since 13 November 2017 for a limited number of performances. At Ilisia Volanakis Theatre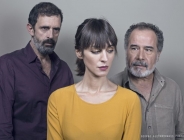 The Spanish playwright and screenwriter David Desola was honored with the prize Lope de Vega (2007) for his work "La charka inutil". A mysterious search for happiness, where the characters are confronted with their fears but also with a strong love.
Oscar (Leonidas Kakouris) reviews his beliefs in his relationship with Irene (Vicky Papadopoulou) as she tries to pull him into her own reality. The link between them is the old teacher (Thodoris Katsafados) who pushes Oscar in his turn to discover things for himself that he could never imagine.
A play of social orientation in the excellent translation of Maria Chatziemmanouil, under the direction of Leonidas Kakouris.
THE ARTBASSADOR has licensed the Greek production of the play LA CHARCA INUTIL by David Desola, on behalf of the translator Maria Chatziemmanouil. (www.soloteatro.gr)