Theatre
THE MOUSETRAP by Agatha Cristie
At Kolossaion Theatre-Thessaloniki, since 3 November!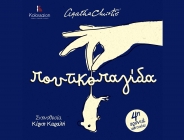 "The Mousetrap", world's longest-running play and one of Agatha's most famous works, thrilled Athenian audiences during the last two theatrical seasons. Now the iconic murder mystery returns for a third run at Thessaloniki's Kolossaion Theatre, since 3 November!
Brimming with intrigue, genius humor and surprising twists, Agatha Christie's superb thriller will keep mystery-lovers guessing until the very last moment!
View more...
Direction : Kirki Karali
Translation : Adonis Galeos
Production : Happy Productions
THE ARTBASSADOR has licensed the Greek production, on behalf of the Agency Concord Theatricals Ltd, which represents Agatha Christie's rights in this play.