Theatre
THE MOUSETRAP by Agatha Cristie
At Neos Akadimos Theatre, since 2 October!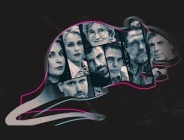 Brimming with intrigue, sophisticated humor and surprising twists, Agatha Christie's iconic murder mystery – about a group of strangers trapped during a snowstorm – is the world's longest-running play. Having run consistently from 1952 to the present, The Mousetrap became one of Agatha's most famous works. A superb thriller which will keep you guessing until the dramatic end. A treat for any mystery-lover!
Asked about its enduring appeal, Christie said: "It is the sort of play you can take anyone to. It is not really frightening. It is not really horrible. It is not really a farce, but it has a little bit of all these things, and perhaps that satisfies a lot of different people''.
NEOS AKADIMOS THEATRE
Direction : Kirki Karali
Translation : Adonis Galeos
Production : Happy Productions
Starring :Valeria Kouroupi, Michalis Levedogiannis, Τzeny Mpotsi, Rania Oikonomidou, Nikos Polideropoulos, Sifis Polizoidis, Stathis Stamouakatos, Ηarrys Tzortzakis.
THE ARTBASSADOR has licensed the Greek production, on behalf of Mousetrap Productions c/ o Aitken Alexander Associates, which represents Agatha Christie's rights in this play.