Theatre
HIMMELWEG "THE WAY TO HEAVEN" by Juan Mayorga
07 October 2019- 26 November 2019
A devastating story based on actual events of the Holocaust.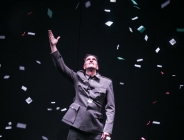 ''The Way to Heaven", the English translation of the German "Himmelweg", was the Nazi soldiers' cynical euphemism for the ramp that led Jewish inmates into the gas chambers.
Based on historical events that occurred during World War II, the play recounts June 23, 1944 when the Nazis permitted an inspection of the Theresienstadt Concentration Camp by the Red Cross, in order to dispel the terrifying rumors of genocide. But what the inspectors witnessed, was an ideal, peaceful community of Jews! If only they had looked a little closer… A fake village was established in an attempt to prove that the Nazi relocation plan was truly humane. The camp was transformed into a living theatre, forcing prisoners to rehearse scenes, which literally became the performances of their lives!
Written by Spain's National Theater Award recipient Juan Mayorga, "Himmelweg" premiered at London's Royal Court Theatre in 2005 and performed successfully throughout the world. Being far more than a mere re-enactment of historical facts, the play deals with the essential problem of truth and the surreal version of reality presented to us. What is lurking beneath the surface? And ultimately how much courage is required to take responsibility for what we see?
The theatrical masterpiece "Himmelweg", production of " NEOS KOSMOS THEATRIKES PARAGOGES", is hosted at the stage of Tzeni Karezi Theatre/ATHENS, translated by Maria Chatziemmanouil and directed by Elena Karakouli, in a breathtaking performance, enriched with photographic and cinematographic material. Starring: Nikos Psarras, Dimitris Papanikolaou, Thanasis Dimou, Veroniki Stogiannidou / Danai Hoffmann.
THE ARTBASSADOR has licensed the greek production, on behalf the translator of the play, Maria Chatziemmanouil.