Music
SPANISH FANTASY
14 February 2022
OSCAR NAVARRO CONDUCTS THE GREEK RADIO NATIONAL SYMPHONY ORCHESTRA AT THE ATHENS CONCERT HALL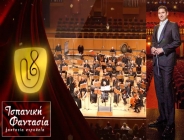 The Greek Radio National Symphony Orchestra, conducted by the internationally renowned Spanish award-winning composer Oscar Navarro, presents "Spanish Fantasy", a unique concert dedicated to the great Spanish composers of the late nineteenth and twentieth centuries, whose unique compositions brought Spanish musical culture all over the world.
"This Spanish fantasy is a work that drinks from the traditional harmonic and rhythmic language. In addition, it has some fresh and modern touches, where the sounds of the orchestra merge with the flamenco cajons and the guitars". - Oscar Navarro
Under the music direction of Oscar Navarro the Orchestra and the Soloists Alexia Mouza, piano, Christos Tzifakis and Panagiotis Kartibelis, guitar, will present outstanding works by Geronimo Gimenez, Isaac Albeniz, Amadeo Vives, Joaquín Turina, Ruperto Chapí, Manuel de Falla and Oscar Navarro.
A unique musical journey, full of passion and enthousiasm at the Athens Concert Hall!
THE ARDBASSADOR provided the Orchestra with the music material of the works, on behalf the Spanish Collecting Society SGAE and the Publishing House MONGE Y BOCETA ASOCIADOS MUSICALES S.L