Music
ATHENS STATE ORCHESTRA, LIONEL BRINGUIER & MISCHA MAISKY
02 July 2022
ATHENS STATE ORCHESTRA AT HERODUS ATTICUS ODEON!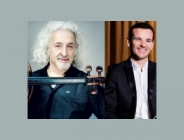 In the frame of the Athens & Epidaurus Festival, the Athens State Orchestra, celebrating its 80th anniversary, will present a series of unique concerts. The first concert is taking place on 2 July, at Herodus Atticus Odeon, with famous works by Antiochos Evangelatos, Antonin Dvořák and Sergei Rachmaninoff.
The concert opens with one of the most important symphonic works of Antiochos Evangelatos, prominent representative of the National School of Music. Subsequently, the legendary cellist Mischa Maisky performs the epic Cello Concerto by Czech Romantic composer Antonín Dvořák. In the second part of the concert, the up-and-coming French conductor Lionel Bringuier conducts Rachmaninoff's epic, timeless and popular Symphony No.2, opus 27, a legendary work of deep emotion and haunting thematic material.
THE ARTBASSADOR provided the Orchestra with the music material of the work of Sergei Rachmaninoff, "Symphony No 2", opus 27, on behalf of the Publishing House BOOSEY & HAWKES.