Music
Thessaloniki State Symphony Orchestra for Gustav Mahler
02 December 2016
The Thessaloniki State Orchestra celebrates Gustav Mahler in a concert.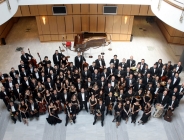 The Thessaloniki State Orchestra presented on 2 December at the Ceremonies Hall of the Aristotle University, a concert dedicated to Gustav Mahler, the rebellious composer who followed consistently its own way in music, steadily pursuing perfection.
Gustav Mahler's ADAGIO FROM SYMPHONY NO10 FOR ORCHESTRA is the swan work of the 'last of the romantics'. The 'Adagio' is the only part of the symphony completed by Mahler before he died and reflects his inner turmoil confronting death and his sorrow for his wife's infidelity. On his manuscript on the full score he mentions: "I lived for you! I die for you! ". The work TOTENFEIER SYMPHONIC POEM FOR ORCHEESTRA and whether this could be a part of a symphony or not was one of the huge dilemmas for the famous Austrian composer. Eventually it became the key material for the first part of the famous 'Resurrection Symphony'.
The Orchestra was conducted by: Erricos Fresis
THE ARTBASSADOR provided the Orchestra with the music material of the works on behalf of the music publisher UNIVERSAL EDITION Austria