Music
LADY MACBETH OF MTSENSK by Dmitri Shostacovich
GREEK NATIONAL OPERA -STAVROS NIARCHOS FOUNDATION CULTURAL CENTER 21,24,27,31 OCTOBER & 5,9 NOVEMBER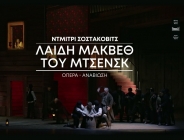 The Greek National Opera presents the iconic opera of the 20th century "Lady Macbeth of Mtsensk", a breathtaking masterpiece by Dmitri Shostakovich.
Having been staged at the Athens Concert Hall in 2019, the successful production now returns to the GNO's Stavros Niarchos Hall, conducted by Fabrizio Ventura and directed by Fanny Ardant, a major figure of the French cinema and theatrical scene.
Widely considered one of the most popular works of the 20th century, "Lady Macbeth of Mtsensk" premiered in 1934 at Mikhailovsky Theatre, one of Russia's oldest opera houses, being enthusiastically received and instantly lauded as the most important opera of the Soviet era, although later banned by the Stalinist regime.
In this GNO's notable production, an all-star international creative team, headed by Fanny Ardant and a celebrated pleiad of Greek and foreign soloists along with the Orchestra and Chorus of the Greek National Opera, conducted by Fabrizio Ventura, create a unique performance, offering audiences an unforgettable operatic experience.
THE ARTBASSADOR licensed the Greek production and provided the Orchestra with the music material of the work, on behalf of the Publishing House BOOSEY & HAWKES.