Theatre
MAMMA MIA! by Benny Andersson, Bjorn Ulvaeus & Catherine Johnson!
Αt Radio City Theatre-Thessaloniki, since 25 November!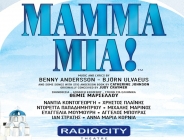 Join the fun at "MAMMA MIA!"
The world's sunniest, most exhilarating smash-hit musical is coming to Thessaloniki!
Written by the British playwright and screenwriter Catherine Johnson, in lyrics and music by Benny Andersson and Bjorn Ulvaeus and featuring the glorious hit songs of ABBA, "MAMMA MIA!" has thrilled over 65 million people around the world, becoming a global entertainment phenomenon. Read more...
Translation/Direction: Themis Marselou
Production: CHRISTMAS THEATER- E.PERAKIS
Leading actors: N. Kontogiorgi, Ch.Plainis, D. Papadimitriou, E. Moumouri, M. Marinos, A. Bouras, Ian Stratis-Nikos Kyrtsos, A. Kornia, together with a great team of prominent artists.
THE ARTBASSADOR has licensed the Greek production, on behalf of the Agency MUSIC THEATRE INTERNATIONAL, EUROPE.