Theatre
MAMMA MIA! by Benny Andersson, Bjorn Ulvaeus & Catherine Johnson!
Αt City Garden Festival by Christmas Theatre, since 25 June!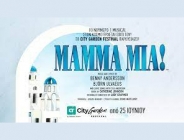 Join the fun at "MAMMA MIA!"
An irresistibly funny tale of a mother, a daughter, three possible dads …and a wedding in a dreamy Greek island which becomes an unforgettable summer party!
The world's sunniest, most exhilarating smash-hit musical is coming to Greece! Written by the British playwright and screenwriter Catherine Johnson, in lyrics and music by Benny Andersson and Bjorn Ulvaeus and featuring the glorious hit songs of ABBA, "MAMMA MIA!" premiered in London's West End over 22 years ago. Since then, "the ultimate feel-good show" –(Classic FM) has thrilled over 65 million people around the world, becoming a global entertainment phenomenon.
The magnificent Greek production of MAMMA MIA! is staged at City Garden Festival, by Christmas Theatre since 25 June. A talented creative team, an impressive cast of 30 actors, singers, stage dancers and a live orchestra, will present an incredibly entertaining show full of energy, joy and emotion as well, promising to leave audiences on their feet every night!
Leading actors: Nadia Kontogiorgi, Alexandros Bourdoumis, Afroditi Liantou, Giorgos Chraniotis, Doretta Papadimitriou, Pinelopi Anastasopoulou, Ivan Svitailo, Ian Stratis-Nikos Kyrtsos, together with a great team of prominent artists.
Translation : Themis Marselou
Direction : Themis Marselou
Music Direction : Nicholas Wastor
Set Designs : Mary Tsagari
Choreographies : Anna Athanasiadi
Costume Designs: Panagiota Kokkorou
THE ARTBASSADOR has licensed the Greek production, on behalf of the Agency MUSIC THEATRE INTERNATIONAL, EUROPE.