Theatre
WITNESS FOR THE PROSECUTION by Agatha Christie
At Anesis Theatre, since 4 October!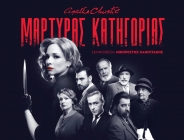 When Leonard Vole stands accused of murdering a rich widow, to inherit her wealth, his wife's testimony seems to be his only hope to convince the jury of his innocence and escape the hangman's noose. But can she really be trusted?
Curious things habits. People themselves never knew they had them.
-A. Christie
Adapted for stage, by Agatha Christie from her 1925 short story, "Traitor Hands", this classic court drama is one of Agatha's most accomplished works. The play opened in 1953, at the Winter Garden Theatre, London receiving wide public and critical acclaim.
A thrilling story of justice, passion and betrayal in a unique courtroom setting, which keeps audiences guessing until the very end! See you in court!
Translation: A. Galeos
Direction: N. Chaniotakis
Production: HAPPY PRODUCTIONS
THE ARTBASSADOR has licensed the Greek production, on behalf of Agatha Christie Ltd, which represents Agatha Christie's rights in this play.