Theatre
A GERMAN LIFE by Christopher Hampton
In Panhellenic premiere, at Ilisia Theatre since 27 October!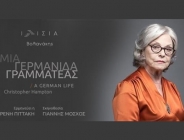 The extraodinary one-woman play, by the award winning Christopher Hampton, is drawn from the life of Brunhilde Pomsel, the personal secretary of Nazis' Propaganda Minister, Joseph Goebbels and the testimony she gave when she finally broke her silence to a group of Austrian filmmakers, shortly before she passed away, in 2016.
" I had no idea what was going on. Or very little. No more than most people. So you can't make me feel guilty ''
How much she really knew? Innocent or culpable? Serious questions searching for answers...a powerful cause of self-reflection!
TRANSLATION : Giannis Moschos
DIRECTION : Giannis Moschos
PRODUCTION : THEASIS DRASIS POLITISMOU
THE ARTBASSADOR has licensed the Greek production, on behalf of the UK Agency CASAROTTO RAMSAY & ASSOCIATES LTD which represents Christopher Hampton's rights in this play.