Theatre
SHORT STORIES by Raymond Carver
Τhe successful performances return at Studio Mavromichali, since 5 October!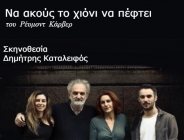 "Βoxes, Intimacy, Beginners, Why Dont You Dance, Gazebo,The Fling".
"Six short stories", a great work by the famous American short story writer Raymond Carver, was presented at Mavromichali studio, during the 2021-2022 theatrical period, attracting huge sensation. Now the successful performances return for a second run, since 5 October!
An extraodinary, deeply moving play, which explores ordinary people's everyday lives, in an absolute must see performance! Read more...
Translation : D. Katalifos-S. Krouska
Direction : D. Katalifos
Production : Studio Mavromichali
Starring : Dimitris Katalifos, Stella Krouska, Vasilina Katerini, Dimitris Tsigrimanis
THE ARTBASSADOR has licensed the Greek production, on behalf of Tess Gallaher, owner of Raymond Carver's author's rights, c/o The Wylie Agency, UK.