Theatre
THE MAN FROM PODOLSK by Dmitry Danilov
In Panhellenic premiere, at National Theatre of Greece-Ziller Building, since 14 October!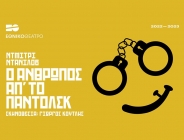 Having been arrested for no reason, an ordinary man from the small town of Podolsk suddenly finds himself at a police station in Moscow, where eccentric policemen put him through the most absurd and embarrassing interrogation...
Τhis compelling play is the theatrical debut of the multi awarded journalist, writer and poet Dmitri Danilov, for which he was granted Russia's top theatre award, the Golden Mask, in 2018.
A thought provoking satire, with elements of absurd humor, about the omnipresence of the paternal state, which manipulates citizens' lives, aiming to "re-educate" them.
Translation: G.Koutlis
Direction : G.Koutlis
Production: NATIONAL THEATRE OF GREECE
THE ARTBASSADOR has licensed the Greek production, on behalf of the Agency Wiedling Literary Agency, which represents Dmitry Danilov's rights in this play.