Theatre
MORTE ACCIDENTALE DI UN ANARCHICO by Dario Fo
At Gloria Theatre, since 19 November!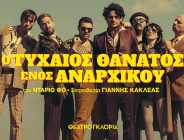 An acclaimed political farce, by the great controversial playwright Dario Fo, winner of the 1997 Nobel Prize for literature. Based on actual events, the play is dedicated to the "accidental death" of the railway worker and anarchist Giuseppe Pinelli, accused of the notorious Piazza Fontana bombing, which took place under mysterious circumstances, while in police custody in 1969.
Written and premiered in 1970 in Milan, ''Accidental Death of an Anarchist", with a political sting in its tail, has been staged successfully in more than 40 countries throughout the world, becoming one of Dario Fo's most famous works. A sharp play, as surreal and paranoid as the times in which we live and one of the greatest and most controversial farces ever been staged!
Direction : Giannis Kakleas
Production : TEXNIXOROS
Starring : Panos Vlahos, Fivos Rimenas, Thodoris Skiftoulis, Ifigenia Asteriadi, Konstantinos Magklaras, Stelios Petsos.
THE ARTBASSADOR has licensed the Greek production, on behalf of the Italian Collecting Society SIAE , which represents the rights of Dario Fo, Franca Rame and Jacopo Fo in this play.