Theatre
LA VALENTIA by Alfredo Sanzol SUMMER TOUR 2021
01 July 2021- 25 August 2021
A brilliant comedy about living among "false and true" ghosts!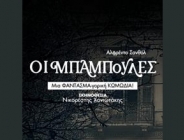 The unconventional comedy of the great Spanish playwright Alfredo Santhol, "La Valentia", production of Marossoulis Theatrical Productions, in Panhellenic premiere travels throughout Greece since 1 July. Under the direction of Nikorestis Haniotakis and translation of Maria Chatziemmanouil the audience will enjoy an absolutely amusing performance.
Winner of the National Dramatic Literature Award 2017, Artistic Director of the National Theater of Madrid and one of the most outstanding contemporary playwrights, Alfredo Sanzol explores fidelity to the past and family relationships, presenting "Valentia", a smart comedy full of unexpected twists.
An inheritance and three pairs of brothers-real and ghostly-. And, on the horizon, a house, the past, fears and the need to look to the future. A whole cocktail of feelings, in a great play full of laughter and nostalgic moments.
THE ARTBASSADOR has licensed the Greek production, on behalf of the Spanish Collecting Society of Authors and Publishers (SGAE), which represents the playwright Alfredo Santhol, and the translator Maria Chatziemmanouil.