Theatre
SCENES FROM A MARRIAGE by Ingmar Bergman
A portrait of extraordinary intimacy and a searchingly honest and moving love story.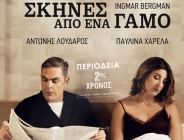 It took two and a half months to write these scenes;
it took a whole adult life to live.....
Ingmar Bergman
In 1973, having been established as one of the world's undisputed cinematic masters, Ingmar Bergman embarked for the first time on a Swedish television miniseries, "Scenes from a Marriage". After its great success the series was subsequently reedited and released in a film version (1974). It was honored with the Golden Globe Award for Best Foreign Language Film (1975), the National Film Critics Association (NSFC) Award for Best Film and Best Screenplay and several other honors. In 2002, "Scenes from a Marriage" was included in "The New York Times Guide to the Best 1,000 Movies Ever Made" and in BBC's list of the 100 greatest foreign-language films in 2018.
Bergman's classic masterpiece explores the eternal theme of relations between the sexes presenting a dramatically absorbing and psychologically rich portrait of a couple whose intimate relationship is falling apart and evolving into something quite different. Johan and Marianne and their story from a seemingly perfect happy marriage through betrayal and loss to warring contenders in divorce and beyond.
Bergman felt a strong connection with his lead characters Johan and Marianne:''I became very fond of these people during the writing process. They generally talk a lot of nonsense but now and again will say something of substance. They are nervous, happy, egotistical, stupid, friendly, wise, willing to make sacrifices, affectionate, angry, loving, sentimental, insufferable and endearing." In 2003 Bergman created the "Saraband", a sequel to his 1973 feature "Scenes From a Marriage" and reunited his favorite characters Johan and Marianne after 30 years, thus ending his film career.
The timeless hit "Scenes from a Marriage", production of "KALLITECHNIKI ETAIRIA THEATROU", in translation, adaptation and direction by Antonis Loudaros, who is also starring together with Pavlina Charela, was presented with enormous success during two theatrical seasons at Sofouli Theater / Thessaloniki and other cities in Northern Greece , thrilling audience and critics. Performances will continue on summer tour throughout Greece starting 13 July 2020.
The Artbassador has licensed the Greek production on behalf of the Agent JOSEF WEINBERGER LTD which represents Ingmar Bergman's rights on behalf of INGMAR BERGMAN FOUNDATION.