Theatre
ORPHANS by Dennis Kelly SECOND RUN
At 104 Theatre, since 23 September!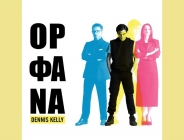 Dennis Kelly's 2009 thrilling play "Orphans", premiered at the 2009 Edinburgh Fringe Festival to great acclaim from audiences and critics alike, winning the Fringe First and Herald Angel award!
A contemporary suspense story, which explores the conflict between family ties and moral responsibility, questioning what are the boundaries we have to cross in order to protect ourselves and our loved ones! Read more...
Translation: K. Markelos
Direction: K. Markelos
Production: This Famous Tiny Circus
THE ARTBASSADOR has licensed the Greek production, on behalf of the Agency CASAROTTO RAMSAY LTD, which represents Dennis Kelly's rights in this play.