Theatre
DUSK, by Christiane Jatahy / Based on the film Dogville by Lars von Trier
27 June 2022- 28 June 2022
Athens Epidaurus Festival, Peiraios 260 venue, 27 & 28 June!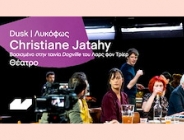 Determined to escape the oppressive regime of her country, the young Graça flees Brasil and finds refuge in a community of theatre artists staging Lars von Trier's Dogville. Although she is enthusiastically welcomed by the group, Graça will later be confronted with the inhuman face of exploitation and xenophobia.
A stirring work about racism and power, in all its forms, in adaptation and direction by the internationally acclaimed artist Christiane Jatahy (direction – adaptation), awarded the Golden Lion for Lifetime Achievement in Theatre, Biennale di Venezia 2022.
THE ARTBASSADOR represents the creator of the play-member of SACD, Christiane Jatahy.