Theatre
SIXIEME ETAGE by Alfred Gehri
At Akropol Theatre, since 2 February!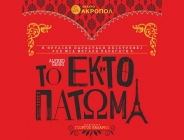 The everyday life of a group of people, co-existing on the sixth floor of a Parisian apartment block during the 1930's financial crisis, unfolds through their romances, conflicts, passions and above all their desires and dreams!
Alfred Gehri's famous play "Sixième étage" was first staged in Lausanne (1937) and six months later premiered in Paris, attracting wide audience attention. Since then this legendary work has been translated into 25 languages and successfully performed in over 40 countries worldwide.
With the signature of the renowned actress A. Panagiotopoulou, music by S. Kraounakis and Lyrics by L. Nikolakopoulou, the Greek production of " Sixième étage" will offer audiences a marvelous performance on live stage full of music, optimism and emotion!
Direction: G. Valaris
Production: Broadwayshow Productions
THE ARTBASSADOR has licensed the Greek production on behalf of SSA-Societe Suisse Des Auteurs, which represents Alfred Gehri's right owners in this play.