Theatre
THE PARTY by Sally Potter
At Anesis Theatre, since 3 May! Panhellenic Premiere!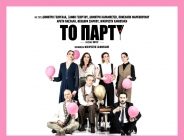 Janet, is celebrating her political ascension, hosting a gathering of friends in her London home. But, as the sophisticated soirée unravels, dramatic secrets will be revealed and an evening that began with champagne, soon ends with arguments, shouting and much more…
Based on Sally Potter's 2017 black comedy film, first presented in the 67th Berlin International Film Festival, "The Party" is a unique study of relations, love and politics.
A sharp satire of the middle-class which explores the deeper truths behind seemingly liberal convictions with great humor and a killer wit!
Translation: A. Galeos
Direction: N. Chaniotakis
Production: MYTHODIA
THE ARTBASSADOR has licensed the Greek production, on behalf of the Agency Concord Theatrical Corporation, on behalf of Samuel French INC, which represents Sally Potter's rights in this play and on behalf of the translator Adonis Galeos.