ROBERTO ATHAYDE JOINING THE ARTBASSADOR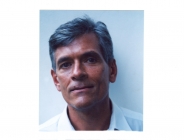 Brazilian playwright, director, and producer Roberto Athayde studied musical composition at the University of Michigan. At the age of 21, he wrote his most popular play "Miss Margarida's Way", an international classic that has been produced in over 30 countries, since its 1973 debut in the playwright's native Brazil. The play had a landmark Broadway performance, under Athayde's direction, starring Estelle Parsons and enjoyed great productions, in France directed by George Lavelli starring Annie Girardot, in Brazil, directed by Aderbal Freire Filho, starring Marília Pêra, in Greece directed by Michael Cacoyannis, starring Ellie Lambetti, in Italy, directed by Giorgio Albertazzi, starring Anna Proclemer, to name just a few.
Roberto Athayde is variously active as a writer, director and producer for the theater and the big screen. His numerous plays include Miss Margarida's Way, published in multiple languages and editions,"Crime e Impunidade e Outras Peças", "Carlota Rainha", "Dom Miguel Rei de Portugal", and "As Peças precoces". His novels include "Confissões do Comissário de Bordo Vladimir da Braniff", "Brasileiros em Manhattan", "O Bicho Carpinteiro" and "Jonathan's Friend". He is also the author of Abracadabrante (essays and poetry), the biography O Bandeirante do Ferro, the poetry collection O Homem da Lagoa Santa, and the screenplay O Sonho de Dom Bosco (with Maria Letícia).
The Brazilian playwright has sought-and found- the dream of every artist "Originality". He believes that the theatre is different from other storytelling arts, thanks to the physical presence of the audience. And as he explained "I have made that physical presence the central focus, the basic idea behind all my plays"
The Artbassador is very happy to announce the stage representation of the playwright Roberto Athayde, for the territories of Greece and Cyprus, effective from March 2021, aiming at the promotion, negotiation and licensing of Roberto Athayde's plays.