Music
ANDREA CHÉNIER by Umberto Giordano
31 March 2021- 31 July 2021
GREEK NATIONAL OPERA PRESENTS ''ANDREA CHÉNIER'' on GNO TV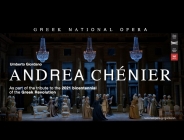 Greek National Opera celebrates the bicentennial of the Greek Revolution (1821-2021) with a brilliant tribute programme! The first production for the tribute programme of 2021, comes to nationalopera.gr/ GNO TV .The emblematic opera "Andrea Chénier", by Umberto Giordano, one of the most representative exponents of the Giovane Scuola.
The life of the famous French poet André Chénier (1762-1794) and his tragic end during the passionate era of the French Revolution, is the subject of "Andrea Chénier", the most successful work of Umberto Giordano.The world premiere of ''Andrea Chénier'' took place at La Scala, Milan, on 28 March 1896, a century after the French Revolution, whose ideas decisively affected the developments in Greece that gave rise to the 1821 Revolution.
The timeless values portrayed in the opera –the French Revolution motto for Liberty, Equality, Fraternity–,are masterfully combined with the intense erotic and dramatic elements. Giordano's enchanting music, highlights not only the erotic passion of his heroes but also the social conflicts and the atmosphere of the era of the French Revolution, where the gavotte –typical aristocratic dance– is contrasted with Ça ira, Carmagnola and La Marseillaise. An historical epic drama which continues to captivate opera audiences across the world.
''Andrea Chénier'' was first performed by the Greek National Opera on 13 March 1965 at the Olympia Theatre. In the 2021 GNO's great production, this emblematic work is performed by the GNO Orchestra and Chorus, under the music direction of conductor Philippe Auguin.The theatrical direction- stagging is signed by Nikos Petropoulos.
The Artbassador provided the Orchestra with the music material of the work, on behalf of the Publishing House EMS-Music of All Publishers.