Theatre
ART by Yasmina Reza
The absolutely successful play of the season 2018-2019 returns for a second run at Mikro Pallas Theatre.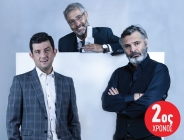 After its huge success during the theatre season 2018-2019, Yasmina Reza's smartest comedy ''ART'', a production of "ATHINAIKA THEATRA", is staged for the second year at Mikro Pallas Theatre/ Athens, in translation by Stamatis Fasoulis and under the direction of Thodoris Atheridis, who is also starring together with Alkis Kourkoulos and Michalis Oikonomou, starting on 10 October 2019.
One of the most acclaimed plays of recent times, ''Art'' premiered at the Théâtre des Champs-Élysées (1994), subsequently ran in West End London (1996) and on Broadway (1998). Having been staged all over the world with great success, translated into more than 30 languages, multi- awarded with Molière, Olivier, N. York Drama Critics, Drama Desk Award and Tony Award for Best Play, "Art" is not a performance to be missed!
The bond of three long-standing friends is shaken to its core when one of them, purchases a very expensive and fashionable piece of abstract art, a completely white painting. Differences in their perception of aesthetic bring to the surface true thoughts about their life and relationship and every value of their friendship will be put to the question! How can art affect our lives? Who has the power to define art? Is the meaning of art merely subjective, given value only through the eyes of its beholder? And ultimately . . . what IS art?
THE ARTBASSADOR has licensed the Greek production, on behalf of the French Collecting Society SACD which represents the playwright Yasmina Reza.