Dance
LARCEN C / CHRISTOS PAPADOPOULOS
06 October 2022- 09 October 2022
Back to Onassis Stegi! Dancing like a glacier!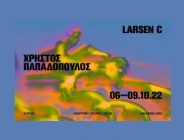 Shortly before travelling abroad again, Christos Papadopoulos' latest masterpiece work, an international co-production of Onassis Stegi, makes a stopover for a second run in Athens.
"Larsen C" has been presented in twelve cities across Europe, including Rome, Madrid, Barcelona, Liège, and Brussels, since its premiere on September 28, 2021 at the Théâtre Jean-Vilar in Vitry-sur-Seine, thriling audiences and critics and enjoying huge international appeal. Its European tour will be continued, making more major stops through, until the fall of 2024.
In Greece "Larsen C", premiered at Onassis Stegi, Athens, in 2022 Spring, conquering the Athenian audience and enjoyed a sold out run and the absolute triumph! A work of art, inspired by the slow, almost invisible movement of melting glaciers.
THE ARTBASSADOR manages the rights of the choreographer Christos Papadopoulos, in Greece and Cyprus, on behalf of the French Collective Society SACD.