Theatre
MASTERCLASS by Terrence McNally
An incisive portrait of Maria Callas, one of the most influential musical icons of the 20th century!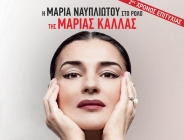 "Masterclass". The multi awarded play, written by American Playwright Terrence McNally in 1995, is based on the legendary series of master classes given by opera diva Maria Callas at Juilliard School in New York, near the end of her life in the 1970s.
Glamorous, proud and demanding, the iconic opera soprano berates her students as much as she encourages them, motivating them to make sacrifices in the name of art and give the performances of their lives, while revealing her humor, demons and genius, unique personality. Featuring incidental vocal music by Giuseppe Verdi, Giacomo Puccini, and Vincenzo Bellini, the play follows Maria Callas interacting with her students, while escaping into recollections about the glories, triumphs and tragedies of her own life and career and her tortured relationship with Aristotle Onassis.
"Masterclass" opened on Broadway at the John Golden Theatre on November 15, 1995, directed by Leonard Foglia and starring Zoe Caldwell and closed on June 29, 1997 after 598 performances, winning a Tony and Drama Desk Award for best Play in 1996. Following its critically acclaimed, sold-out run on Broadway, the play enjoyed many productions all over the world and brilliant performances by great protagonists, such as Faye Dunaway, but also Fanny Ardant in Paris, in direction by Roman Polanski. "Masterclass" debuted in Greece in 1997-1998, directed by Michalis Kakogiannis and translated by Marios Ploritis, with Katia Dandoulaki in the role of Maria Callas.
Since 2018, the emblematic play has been staged for two theatrical seasons, at DIMITRIS HORN THEATRE/ ATHENS, produced by PRIME ENTERTAINMENT, directed by Odysseas Papaspiliopoulos, with acclaimed Greek actress Maria Nafpliotou in the starring role, enjoying two entirely sold-out runs. The absolutely successful performances will return for one more run at PALLAS THEATRE /ATHENS, starting 1 November 2021.
THE ARTBASSADOR has licensed the Greek production, on behalf of the Agent WILLIAM MORRIS ENDEAVOR.