Music
MOZART & PROKOFIEV
21 February 2021
THESSALONIKI STATE SYMPHONY ORCHESTRA AT THE THESSALONIKI CONCERT HALL STREAMING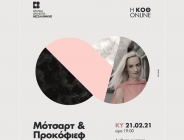 The Thessaloniki State Orchestra, in collaboration with the Thessaloniki Concert Hall, will present via streaming on the youtube channel and social media a unique concert with famous works by Mozart & Prokofiev. Under the music direction of Georgios Vranos and the winner of the 5th International Piano Competition "George Thymis" (2011), Martyna Jatkauskaite on piano, the orchestra will present the following works:
''Piano concerto No.24'', by Wolfgang Amadeus Mozart (1756-1791), composed in 1786, one of Mozart's most advanced compositions in the concerto genre which synopsizes all the passion of his outstanding music.
''Symphony No.1'' ('Classical'), by Sergei Prokofiev (1891-1953), composed in 1917. Prokofiev's wish that his first symphony "might itself turn out to be a classic" came true very quickly. The Classical earned an enduring spot in the orchestral repertoire as a compact masterpiece, and today is one of the most frequently performed and recorded of all 20th-century compositions.
The ARTBASSADOR, provided the Orchestra with the music material of the work of Sergei Prokofiev ''Symphony No.1'', on behalf of the Publishing House BOOSEY & HAWKES UK.