Theatre
MORTE ACCIDENTALE DI UN ANARCHICO by Dario Fo
The smash hit performance, returns for a second run, at Gloria Theatre since 5 October!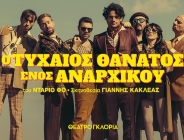 After its great success during the theatrical season 2021-2022, Dario Fo's acclaimed political farce ''Accidental Death of an Anarchist", returns for a second run, since 5 October! A dynamic, controversial theatrical classic in an absolutely must see performance!
Written and premiered in 1970 in Milan, ''Accidental Death of an Anarchist", with a political sting in its tail, has been staged successfully in more than 40 countries throughout the world, becoming one of Dario Fo's most famous works. Read more...
Direction : Giannis Kakleas
Production : TEXNIXOROS
Starring : Panos Vlahos, Fivos Rimenas, Ifigenia Asteriadi, Panagiotis Katsolis, Konstantinos Magklaras, Stelios Petsos.
THE ARTBASSADOR has licensed the Greek production, on behalf of the Italian Collecting Society SIAE , which represents the rights of Dario Fo, Franca Rame and Jacopo Fo in this play.